Apple's first 5G iPhone may end up even more delayed than currently thought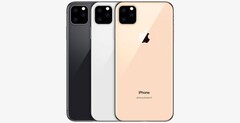 Bloomberg's most recent report on Apple and its next-generation modem woes suggest that the company is in even more trouble than previously imagined. Its choices for 5G hardware in future iPhones are apparently limited and come with compromises. Therefore, it JUST may skip this feature in 2020 as well as 2019.
Bloomberg has published a new article in which it asserts that Apple is facing considerable adversity in securing 5G modems for future generations of its iPhones. It cites an analyst called Cowen who has apparently advised their clients that its options to purchase these parts each come with their particular drawbacks and issues.
Earlier reports have indicated that the Cupertino giant's current acrimonious relationship with Qualcomm has scuppered any chance of buying the necessary hardware from this company, as one might expect under normal circumstances. This could push Apple's foray into the new connectivity standard back to as much as "18 months" after its Android rivals have released their own 5G-ready handsets.
For example, Apple's best options may be to order these modems from either Samsung or MediaTek. The latter company's latest 5G modem supports both sub-6GHz and mmWave 5G modalitiies, and is backwards-compatible with older radio bands. However, Cowen has also claimed that the Taiwanese OEM's supplies may still be limited beyond the point of fulfilling an order of the magnitude Apple may require. Partnering with Samsung for the same modules would also apparently come with "tough commercial terms" from Apple's point of view.
The tone of Cowen's quotes also suggest that the option of soliciting Huawei's 5G products is not to be considered. This may be related to the US Government's stance on the company and its perceived relationship with the Chinese government. On the other hand, Intel may be the most obvious option for Apple with respect to 5G support. However, Cowen argues that the modems this company may make available to the OEM will be sub-optimal, in that they will not be capable of transmission over mmWave frequencies.
All in all, it appears that Apple has come up against multiple rocks, each with their corresponding hard place, in terms of a 5G future for its flagship smartphones. Therefore, it may indeed find itself waiting until 2020 - or maybe even later - before it can unveil this particular 'innovation' to its customers.