The modular Fairphone 3 (unsurprisingly) scores a perfect 10 in iFixIt teardown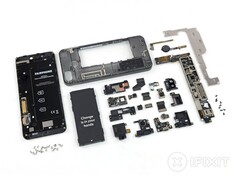 The Fairphone 3 received a perfect 10 in its iFixIt teardown. The modular phone is perhaps the most repairable device on the market; most major components are attached to removable modules, making repairs a snap. The back is held in with simple clips rather than adhesives, and the battery can be lifted out of the device and swapped out in less than a minute.
Fairphone released its third smartphone just a few weeks ago. True to Fairphone form, the device (simply called the Fairphone 3) is designed with repairability and sustainability in mind. The phone is almost fully modular so that end users can easily and quickly make repairs as needed. Unsurprisingly, the modular nature for the handset nabbed it a perfect 10 in a recent iFixIt teardown.
While the Fairphone 3 sports lower- to mid-range specs for a 2019 handset, its main purpose is repairability. To that end, the device relies on snap sockets and pogo pins to connect its various internal electronic components. As noted in the teardown, most of the parts can be removed without fuss, and several are clearly labelled to make reassembly a snap.
A few of the components (like the RAM and the Snapdragon 632 SoC) are neither removable nor upgradeable as they are soldered to the motherboard, but almost everything else inside the phone can be swapped out should it break. The speakers, camera module, battery, USB-C charging port can be changed out with a screwdriver and a few minutes.
Perhaps most useful is the easily removable back and battery. Aside from the front display glass, batteries are the most often replaced component of a smartphone. Considering most modern smartphones glue the battery to the chassis and seal the phone shut with heavy adhesive, it's refreshing to see a device that lets end users swap out the battery in less than a minute. Further, Fairphone even provides replacement guides and sells individual replacement parts on their website.
To check out the full teardown, visit iFixIt's site.