The Mara X and Mara Z are the first smartphones manufactured and assembled entirely in Africa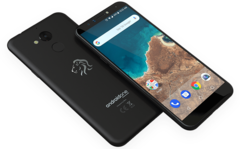 Mara Group, a Rwandan-based smartphone company, unveiled the Mara X and Mara Z smartphones. The phones carry the pride of being the first handsets manufactured and assembled completely in Africa. Mara Group hopes that the phones are merely the beginning of a tech revolution that will boost Rwanda's economy and standing in the region.
Working For Notebookcheck
Are you a techie who knows how to write? Then join our Team! Especially English native speakers welcome!
Currently wanted:
News and Editorial Editor - Details here

Mara Group, a new tech company based in Rwanda, Africa, made history earlier this week by launching the world's first "Made in Africa" smartphones. While a few select parts of the Mara X and Mara Z were imported, most of the phones' internals were manufactured and assembled on the continent.
Mara Group's phones are cheap Android handsets with low-end specs. The Mara X runs on a MediaTek MT6739 SoC, 1 GB of RAM, and 16 GB of storage. The phone has a 5.5-inch HD+ (720x1440) display covered in Corning Gorilla Glass 5 and has a 13 MP shooter and a fingerprint sensor on the back and a 5 MP selfie camera on the front.
The Mara Z packs Qualcomm's Snapdragon 435, 2 GB of RAM, and 32 GB of storage behind its 5.7-inch HD+ display. The Z also has a 13 MP camera and a fingerprint sensor on the back but ups the resolution of the front-facing camera to 13 MP. Both phones are running the Android One editions of 8.1 Oreo, which is pretty long in the tooth or 2019.
But the specs aren't Mara Group's focus with the X and the Z. Rather, the company is seeking to upset the smartphone market in Arica, specifically in Rwanda. Currently, only about 15% of Rwandans use smartphones according to Reuters, and most of these own a cheap Samsung handset or an unbranded Android phone from China. Most of these devices come in at or below 50,000 Rwandan Francs (~US $54).
Mara's offerings, on the other hand, are priced much higher. The Mara Z and Mara X retail for 175,750 and 120,250 Rwandan Francs (~$190 and $130), respectively. Mara Group CEO Ashish Thakkar says the phones for marketed toward customers who are willing to spend more for a higher quality smartphone that was designed, manufactured, and assembled locally.
It's the Mara phones' manufacturing process that makes them unique. Some OEMs have turned to certain African countries for assembly labor, but Mara is the first company manufacturing a phone on the continent from scratch.
"We are actually the first who are doing manufacturing. We are making the motherboards, we are making the sub-boards during the entire process," Thakkar said in an interview with Reuters. According to him, Mara Group's manufacturing plant can produce up to 10,000 phones a day.
The Mara Z and Mara X may be mostly manufactured in Africa, but it's likely that Mara Group still has to import some components (like the SoCs). Still, manufacturing most of a phone, assembling it, and then selling it all within one region is sure to boost Rwanda's economy, provided its citizens want to purchase it.
What do you think of the Mara X and Mara Z? Do you think the phones will succeed given their significant price premium over more popular devices in the region? Tell us your thoughts below.
(We have reached out to Mara Group to get further details on the Mara Z and Mara X, including which parts are or are not manufactured at the company's plant. We will update this article when we receive a response.)