The Xiaomi Mi Mix 4 may be joined by 4 more 108MP camera phones in 2020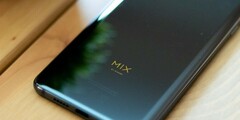 XDA contributors claim to have found references to code-names for 4 different new Xiaomi phones in this OEM's software. There is also evidence that all of these devices will have the state-of-the-art 108MP Samsung image sensor that should inform the apex of smartphone cameras going into 2020. Furthermore, it is possible that the Mi Mix 4 is not one of them.
Xiaomi has recently caused a stir in the tech world by reportedly partnering with Samsung to plan its first phones with cameras of 100MP-plus resolutions. It is rumored that the Mi Mix 4 will be the one to debut the sensor in question - the ISOCELL Bright HMX - on its launch. Now, it seems that this device might be closely followed by many more with the same spec.
This possibility is based on the analysis of recent updates to Xiaomi's Mi Gallery app, dug up in a fresh post on XDA News. It makes references to 4 novel code-names, which may correspond to 1 device in development apiece. They are thought to be associated with 108MP images as they were found among new pieces of programming concerned with their support in this app. Therefore, it is likely that they can be used to view content at this resolution - or to create it.
The 4 new nick-names are tucana, draco, umi and cmi. Interestingly, the Mi Mix 4 may not be among these putative devices: its own alias is thought to be hercules. As perseus is that of its predecessor, this makes sense. Therefore, the new code-names (not to mention their mixed-bag nature) may indicate the existence of 108MP phones from either Xiaomi or Redmi planned for release in 2020.