Redmi confirms there will be a K30, and that it will have 5G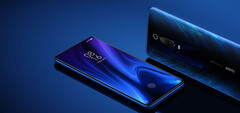 The Redmi K20 series will get a 2nd generation, according to the brand's general manager. Furthermore, it will also get 5G. It is not clear if this will apply to all variants of the K30, or just one of them.
The K20 and K20 Pro are the results of a new smartphone series planned by Redmi for this year. Now, this Xiaomi brand's general manager, Lu Weibing, has announced on Weibo that there will be more of the same in 2020. This post specifically referenced a K30, at least, which is also to support next-gen connectivity.
This Redmi K-series phone of the future will support "full Netcom 5G", according to the executive. Therefore, it appears that the Pocophone series, which occupied its general price-point for Xiaomi prior to 2019, may be truly dead. Should this be the case, it appears that patent documents hinting at a Pocophone F2 may never come to fruition after all.
In other Redmi K20 news, its non-Pro variant has gone on sale in China for the first time. It had launched at 2599 yuan (about US$363) for an 8GB RAM SKU, but is now 2299 yuan (~$321) on Mi.com. This just may be an early indication that it is to be replaced by an updated version sometime in the near future.