The Redmi K30 is on the way with a Galaxy S10 Plus-eque punch-hole design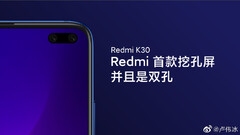 Xiaomi is set to release a successor to the immensely successful Redmi K20 Phones. The Redmi K30 is on the way and it will feature both 5G support and a dual selfie camera setup reminiscent of the Samsung Galaxy S10 Plus.
Xiaomi launched the Redmi sub-brand almost a year ago and, a few months after, released the Redmi K20 and K20 Pro as the brand's first flagships. We consider the K20—and Mi 9T duo, by extension—to be the best value devices in the world, so it came as a pleasant surprise to learn that the Redmi K30 is already in the works.
Xiaomi has confirmed that the Redmi K30 is on the way. Right now, we only know two things about the device—or devices. For one, they will have 5G capabilities. At the moment, the only devices with 5G support in Xiaomi's lineup are the Mi Mix 3 5G and Mi 9 Pro 5G. It'll be nice to get a more affordable 5G phone in the Redmi K30.
Secondly. the Redmi K30 will feature a dual selfie camera setup. It will opt for a pill design, just like the Samsung Galaxy S10+. That design factor looks to be all the rage right now, as we also just reported that it's set to feature on the upcoming Honor View 30 Pro. We're not sure what the secondary selfie camera on the Redmi K30 will be, though; perhaps an ultra-wide-angle lens, or a ToF sensor? (Galaxy S10 Plus 128GB Unlocked on sale now at Amazon)