The main rear-facing cameras of the Mi 9T and Mi 9T Pro appear uncannily similar on paper, with them both being 48 MP Sony IMX sensors that have an f/1.75 aperture. However, Xiaomi equips the former with an IMX582, the latter has an IMX586. The two sensors have the same pixel and sensor size too. In short, the only difference between the two on paper is the FPS at which they can record 4K video. Whereas Sony limits the IMX582 to 30 FPS, the IMX586 can reach 60 FPS. So, the two devices should have the same image quality, with one able to shoot smoother 4K videos, right? We wish it were that simple, as the Mi 9T and Mi 9T Pro produce noticeably different photos even in daylight.
We should point out that our test devices were running slightly different versions of Xiaomi's in-house camera app during our tests. The Mi 9T Pro had V10.3.16.0 installed, with its non-Pro sibling running the slightly older V10.3.10.0 instead. You can view our full resolution test shots by clicking on them individually.
Daylight & Low-Light Photography
Both sensors take sharp and detailed photos in good ambient lighting. Qualitatively, little separates the Mi 9T and Mi 9T Pro, but they have subtly different dynamic range and focal length. There are sharpness differences too, but these are minor and not consistent enough to say that one sensor is better than the other.
However, the superiority of the IMX586 shines through in low-light conditions, with it generally better exposing dark scenes than the IMX582 can. Moreover, the latter has a harder time reproducing details and keeping objects in focus the former does. Overall, photos shot at night using the Mi 9T Pro have better dynamic range than those taken with the Mi 9T, allowing the former to capture more details than the latter too.
Verdict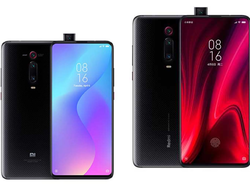 The Sony IMX582 is a competent sensor by midrange smartphone standards and takes impressive photos in good ambient lighting. However, it proves no match for the IMX586 that Xiaomi uses in the Mi 9T Pro, despite the two having comparable specifications on paper.
In short, if you are torn between buying the Mi 9T and Mi 9T Pro, but like taking low-light photos, then choose the latter because of its superior IMX586 sensor. However, the IMX582 will serve most people well if they plan on mainly taking photos during the day.