Vivo's Nex 3 "waterfall" display is shown in real-life teaser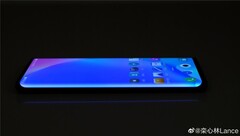 The OEM Vivo recently released a teaser in which it hinted that its upcoming flagship, the Nex 3, would have a state-of-the-art waterfall display. Now, the product line's manager, Li Xiang, has revealed a photo of a phone in which the screen appears to cascade over the side of the device. However, the effect has already been disputed on social media.
OPPO may have introduced the concept of a waterfall display in smartphones, but it is not the only OEM to promise it in an upcoming devcie. A promo from Vivo ahead of IFA 2019 showed sketches of the future flagship the Nex 3, in which it was depicted with just such a screen that appears to extend all the way back to the rear panel.
More recently, a Vivo executive, Li Xiang, took to Weibo to post what appeared to be a photo of the same phone. It was set in darkness with the screen on and one long edge of the phone angled toward the camera. This highlighted the extreme curve of the display towards the surface on which the "Nex 3" rested.
However, a second social media user replied with a version of the same image they had edited to bring the ambient lighting back up. This appears to reveal that the "waterfall" display does not extend all the way down the phone's edge, as suggested in the sketches: in fact, it could be said to go only about half-way down the depth of the device. The Weibo commentator also pointed out that this aspect of the Nex 3 could be ramped up to as much as 9.5 millimeters so as to accomodate the first-gen feature.
Nevertheless, the 'fall' of the display still appears more prominent compared to precursors such as those found in the existing OnePlus 7 Pro or Samsung Galaxy Note 10. This, however, implies that the Nex 3 may also have the disadvantage of glare on these curving screen-edges - which may just get worse in waterfall mode. In other Nex 3 news, it is also said to retain a headphone jack and to have dual-mode 4G and 5G.