Realme sees an 848% increase in its global smartphone shipments compared to this time last year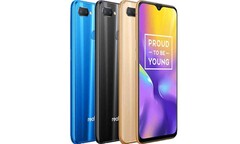 The OPPO sub-brand Realme's volume of smartphone shipments worldwide has increased from approximately 500,000 in the 2nd quarter of 2018 (2Q2018) to about 4.7 million in 2Q2019. In other words, this has grown 8.48 times year-on-year (YoY). Its parent company also remains in the top 5 OEMs worldwide, although Samsung still remains supreme.
OPPO's sub-brand Realme's share of the smartphone market worldwide has increased from 0.1% in 2Q2018 to 1.3% (or grew by 120%) in 2Q2019. Meanwhile, Apple's volume of shipments has falled by approximately 4.9 million (or 11%) YoY. Its share of the market also fell by 1.2%.
Samsung's own share grew by 7.1% compared to 2Q2018. Huawei also increased its share of the market by 4.6% YoY, although the effects of its recent ban on sales in the US is now projected to have an effect later in the year. Vivo, Xiaomi, Lenovo (when including Motorola's figures), HMD and OPPO itself also found themselves in the top 10 smartphone brands in this quarter.
Despite the positive numbers posted by many OEMs, global smartphone shipments added up to about 360 million in this quarter, meaning they fell by 1.2% YoY. These numbers also fell for the 6 quarters preceding 2Q2019. This market's Chinese sector - which represented over 25% of all smartphone shipments in the quarter - shrank by 9% compared to 2Q2018.