Vivo iQOO Pro 5G captured in live image prior to launch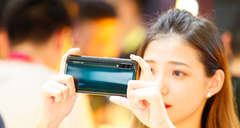 Vivo's next product launch is slated to be a 5G-capable smartphone that may also be powered by the latest Qualcomm Snapdragon 855 Plus SoC. This device, which will go under the OEM's new sub-brand iQOO, has reportedly been photographed in the hands of a conference attendee. It appears to have fairly standard-issue styling for a 2019 flagship.
Vivo's upcoming 5G smartphone is thought to launch at the end of August 2019. However, it is possible that this prospective iQOO flagship's looks have been revealed in a spoiler already. A Weibo account has posted a photo allegedly taken at the recent China Digital Entertainment (or ChinaJoy) Expo and Conference of someone holding an unfamiliar phone with this branding.
It is believed that this device is the iQOO Pro 5G as its freshly-leaked official tagline, "Monster Inside", is printed down the midline of its rear panel. The phone is plainly of the mid-to-high tier (at least), as it has triple rear cameras. They are arranged along one upper corner of the device, in a way reminiscent of the Huawei P30.
The putative high-end Vivo device continues the likeness to the P30 in that its brand-name is printed on the corner opposite to these lenses. The term '5G' itself is also worked in alongside this lettering. However, the rest of the rear panel is finished in a glossy bluish green that is quite like that also found on the OPPO Reno. All in all, it now looks like the iQOO Pro 5G is shaping up to blend in perfectly with the 2019 premium landscape.