The Motorola P50 is the One Vision re-branded for the Chinese market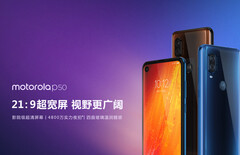 Motorola has released a phone called the P50 in China. This device is nearly identical to the One Vision, except that it runs ZUI 11 rather than stock Android 9.0 (Pie). It also comes in a 6GB RAM flavor, whereas its alternative version only has 4.
Motorola has unleashed the P50 on the Chinese market. It is in effect the One Vision for this region, albeit with some potentially important differences. The new mid-ranger is being sold via the OEM's own website, and costs 2499 yuan (about US$363) via this medium.
Motorola is selling this phone largely unchanged from the One Vision original, even down to its Amber Coffee and Green Gold Blue color options. However, the P50 runs ZUI 11 based on Android Pie (the same skin found on many phones from Motorola's parent company Lenovo), whereas its other self is an Android One device.
Furthermore, the new P50 has 2GB RAM on the One Vision. Therefore, it may be the more powerful variant; however, the latter ships with an OS that is much closer to stock Android. In addition, this phone has a much greater chance of staying up to date with software and security patch support directly from Google.