New Motorola One Zoom renders show quad cameras and Amazon apps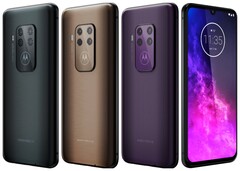 The One Zoom may be a device soon to be released by Motorola. It is projected to be a quad-rear-camera device with Amazon Alexa integration. Some new images, shared by the legendary leaker Ishan Agarwal, may show what this phone will look like.
The latest addition to the Motorola One line is rumored to be called the Zoom. This may be due to the quadruple cameras predicted to feature on the rear of this putative device. It is possible that they may be set into a rectangular housing once also linked to the Huawei Mate 30 series.
Despite the fact that the One Zoom is most likely to be an Android device, it is also rumored to come with the Amazon Alexa voice assistant pre-installed. Accordingly, some of its latest renders show its display with Amazon apps, suggesting that more functions associated with this ecosystem.
These images have come courtesy of Ishan Agarwal, in conjunction with MySmartPrice. They show the One Zoom with its rumored 4 cameras, as well as 3 color options (black, gold and purple) for the device. This phone is also now thought not to join the Android One program, unlike many others from the same series.