Like a Dell XPS 15, but more insane: Asus ZenBook Pro Duo with two 4K screens, GeForce RTX graphics, and unlocked Core i9 CPU now shipping for $2999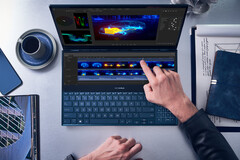 Unveiled at Computex 2019, the ZenBook Pro Duo is Asus' latest off-the-wall multimedia laptop that dares to be different in order to offer a unique experience not found anywhere else. The system incorporates a primary 15.6-inch 4K OLED display, a secondary 14-inch 4K IPS touchscreen, and an overall visual design reminiscent of the Zephyrus GX531 or GX501.
Based on our experience with the "lesser" ScreenPad 2.0 on the latest VivoBook S15, the new ScreenPad Plus on the ZenBook Pro Duo should solve some of the biggest issues of having two screens on a laptop: resolution consistency and physical distance between displays. While a clickpad-turned-touchscreen can be useful, its smaller size and suboptimal positioning can be tiring on the eyes. The ScreenPad Plus is much closer to the main display and with the same width and resolution for improved ergonomics.
The official Asus product page does not give an estimated battery life for the laptop likely because it will be average at best. Its 71 Wh internal battery will be smaller than the 97 Wh battery as found on the Dell XPS 15.
The ZenBook Pro Duo UX581 is now shipping on Amazon, Newegg, B&H, and other major retailers with Core i7-9750H and unlocked Core i9-9980HK options starting at $2500 and $3000, respectively.
ASUS ZenBook Pro Duo (UX581)
Processor
Intel® Core™ i9-9980HK (UX581GV-XB94T)
Intel® Core™ i7-9750H (UX581GV-XB74T)
Display
Main Display: 15.6" OLED 4K (3840 x 2160) 16:9 touchscreen
ScreenPad Plus: 14" 4K UHD touchscreen
Operating System
Microsoft Windows 10 Pro
Graphics
NVIDIA® GeForce RTX™ 2060 - 6GB GDDR6 VRAM
Memory
32GB DDR4 2666MHz (UX581GV-XB94T)
16GB DDR4 2666MHz (UX581GV-XB74T)
Storage
1TB PCIe® x4 SSD
Connectivity
Intel® Wi-Fi 6 with Gig+ (802.11ax)
Bluetooth® 5.0
Cameras
IR webcam with Windows Hello support
Interfaces
1 x Thunderbolt™ 3 USB-C™
2 x USB 3.1 Gen 2 Type-A
1 x Standard HDMI
1 x Audio combo jack
1 x DC-in
Audio
Array microphone with Cortana and Alexa voice-recognition support
Harman Kardon-certified audio system
Battery
71Wh 4-cell lithium-polymer battery
AC Adapter
Output: 19.5V, 230W
Input: 100V-240V AC, 50Hz/60Hz
Dimensions
14 x 8.8 x 0.9 in
355.6 x 223.52 x 22.86 mm
Weight
6.4 lb
2.9kg
Fremont, California (August 26, 2019) — ASUS today announced ZenBook Pro Duo (UX581), a groundbreaking laptop featuring the new ASUS ScreenPad™ Plus, a revolutionary 14-inch full-width secondary touchscreen that expands and enhances the interactive capabilities offered by the original ASUS ScreenPad.
ScreenPad Plus offers endless creative possibilities for content creators, allowing productivity-enhancing workflows and easy multitasking. It integrates seamlessly with the primary display, and the built-in ScreenXpert software includes a wide selection of useful apps, tools and utilities that allow users to easily enjoy the efficiency benefits of ScreenPad Plus.
Extreme performance for effortless creativity is provided by up to 9th Generation Intel® Core™ processors, combined with up to 32GB RAM and an NVIDIA® GeForce RTX™ 2060 GPU, with ultrafast storage provided by up to a 1TB PCIe® 3.0 x4 SSD.
ZenBook Pro Duo features a stunning 4K UHD (3840 x 2160) OLED touchscreen for breathtaking visuals, a 4K (3840 x 1100) ScreenPad Plus and an ASUS NumberPad dual-function touchpad. The display is a frameless four-sided ASUS NanoEdge design, with ultraslim bezels for immersive visuals and an ultracompact form factor.
The brand new Celestial Blue color gives ZenBook Pro Duo a sophisticated air of timeless innovation. It's also decorated with a unique asymmetric version of the iconic Zen-inspired spun-metal finish: an intriguing design detail that gives ZenBook Pro Duo a totally unmistakable identity.
Create the uncreated: ultimate productivity

The unique 4K ScreenPad Plus on ZenBook Pro Duo gives users the ability to enjoy the productivity and efficiency benefits of using two separate LCD displays on a single portable device. The full-width, high-resolution 32:9 aspect-ratio touchscreen sits directly above the laptop's keyboard, providing a greatly enlarged visual workspace while preserving the standard laptop form factor.
ScreenPad Plus can be used just like any standard second display in Windows to display visual content, or users can take advantage of many time-saving features and functions built into the ScreenXpert control software to simplify multiscreen window and app management. These include handy quick controls such as App Switcher, ViewMax and App Navigator that enable intuitive interactions and easy cross-screen referencing between the main display and ScreenPad Plus. Task Group lets users lock instantly into work mode by opening multiple tasks with a single touch.
Users can also drag discrete apps, toolbars or menus onto ScreenPad Plus to reduce clutter on the main screen and enhance work efficiency. Creators can dock their tools such as video previews, timeline controls, code windows or audio mixer panels onto ScreenPad Plus to optimize their workflow. Social communications apps placed on ScreenPad Plus allow users to keep up to date and respond instantly to messages while working, without having to switch between windows.
Adaptive functions, pioneered in the original ScreenPad, also offer enhanced workflow. ASUS is working with developers including Corel® to optimize adaptive ScreenPad tools for the ultimate productivity. However, any Windows app can be used with ScreenPad Plus, with no need for a specific ScreenPad Plus-enabled version1.
Using the bundled stylus2 — or any other active stylus — enables yet another layer of interactivity for users, with ScreenPad Plus offering a superbly stable platform for writing or drawing. A bundled deluxe palm rest3 enhances the ErgoLift tilting keyboard design even further for the most comfortable drawing or typing experience ever.
ZenBook Pro Duo features the latest version of the ASUS NumberPad, an LED-illuminated numeric keypad integrated into the touchpad. There's also Amazon Alexa voice support, with a dedicated light bar at the front of the laptop that illuminates to indicate it's listening.
Ultrapowerful performance

ZenBook Pro Duo is designed for extreme performance to enable effortless creativity. It's powered by up to a 9th Generation Intel Core i9 eight-core processor with up to an unprecedented 5GHz Turbo Boost frequency and 32GB of DDR4 RAM. The gaming-grade NVIDIA GeForce RTX 2060 GPU, powered by the NVIDIA Turing™ architecture, is a game-changing GPU that offers users the power of ray-tracing for the ultimate visual realism.
An up to 1TB PCIe 3.0 x4 SSD ensures ultrafast data access at all times, and the full set of I/O ports includes a Thunderbolt™ 3-enabled USB Type-C™ (USB-C™) port. The latest Intel Wi-Fi 6 with Gig+ (802.11ax) takes wireless speeds to the next level, for supersmooth connections to the world.
To ensure silky-smooth operation and maximum performance are available at all times, there's a dedicated Turbo Fan button to boost cooling at any time, and the ErgoLift hinge improves airflow under the laptop for better thermal performance.
This potent specification makes ZenBook Pro Duo one of the most powerful laptops available for discerning on-the-go creative professionals, and ensures an ultra-fluid cross-screen workflow when using ScreenPad Plus.
Brilliant visuals

The 4K UHD NanoEdge OLED touchscreen on ZenBook Pro Duo is truly amazing, with a four-sided frameless design featuring an 89% screen-to-body ratio that gives users more screen, and fewer distractions. This brilliant display technology delivers ultra-vivid colors and deep blacks.
To display the most vivid, most realistic colors possible, ZenBook Pro Duo supports an exceptionally wide color gamut with 100% DCI-P3 coverage and HDR. The DCI-P3 color space — widely used in the motion picture industry — is increasingly the preferred choice of creative professionals for its increased range of possible colors, and makes images on ZenBook Pro Duo look simply stunning.
AVAILABILITY AND PRICING
The ASUS ZenBook Pro Duo (UX581GV-XB94T) is immediately available at a MSRP of $2999.99 from the ASUS Store,ABT, Amazon, B&H, EXcaliberPC, Microsoft Store, Mobile Advance, Newegg and other leading retailers.

The ASUS ZenBook Pro Duo (UX581GV-XB74T) is immediately available at a MSRP of $2499.99 from the ASUS Store,Amazon, B&H, EXcaliberPC, Microsoft Store, Mobile Advance, Newegg and other leading retailers.
After graduating with a B.S. in environmental hydrodynamics from the University of California, I studied reactor physics to become licensed by the U.S. NRC to operate nuclear reactors. There's a striking level of appreciation you gain for everyday consumer electronics after working with modern nuclear reactivity systems astonishingly powered by computers from the 80s. When I'm not managing day-to-day activities and US review articles on Notebookcheck, you can catch me following the eSports scene and the latest gaming news.