The Lenovo ThinkPad X1 Extreme Gen 2 with the GeForce GTX 1650 Max-Q is now orderable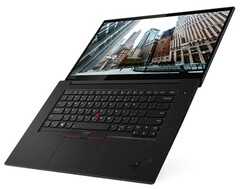 Lenovo's newest high-end ThinkPad laptop, the ThinkPad X1 Extreme 2019, is now available in the USA. Prices for the Dell XPS 15 competitor start at $2,049 for the cheapest pre-configured model available – a hefty base-price, though it will likely fall considerably in the near future with the introduction of discounts & more configuration options.
The first generation of the Lenovo ThinkPad X1 Extreme occupies the second place of our multimedia laptop top 10, having achieved exactly the same score as its fiercest competitor, the Dell XPS 15 9570. As of today, it is officially obsolete, as the Lenovo ThinkPad X1 Extreme 2019 has hit the market in the USA. It is orderable directly via lenovo.com.
Originally, the Chinese PC manufacturer announced the Lenovo ThinkPad X1 Extreme Gen 2 in May for a July release and a starting-price of $1,500. Lenovo has fulfilled its promise to release the new 15.6 inch ThinkPad business laptop in this month, though its base-price is higher than originally announced: For now, the most affordable model available costs $2,049.
That should not be the case for long, however. Lenovo only sells two pre-configured X1 Extreme G2 models at the moment, so there are plenty of options missing – including more affordable i5 processors and a 256 GB SSD option. Also, Lenovo ThinkPads tend to become discounted on Lenovo's US-website. In this case, waiting a few weeks for the prices to drop and for more configuration options to become available should be worthwhile.
All the models of the ThinkPad X1 Extreme Gen 2 will be equipped with Intel 9th gen "Coffee Lake Refresh" processors with up to eight CPU cores when configured with an i9, though the two available models both include hexa-core i7 processors. The Nvidia GeForce GTX 1650 Max-Q is standard in all configurations of the ThinkPad X1 Extreme 2019 and it is one of the central new features compared with the preceding model. Another important area of improvement are the screen options: The new X1 Extreme Gen 2 will be available with brighter HDR FHD screens, a matte 4K UHD IPS panel and an OLED screen with touch- and pen-support. At the moment though, only the matte 4K UHD IPS and a basic FHD IPS panel are available.
As soon as we can get our hands on the ThinkPad X1 Extreme 2019, we will produce a detailed review.