Lenovo ThinkPad X1 Extreme Gen 2: A multimedia laptop that succeeds in being worse than its predecessor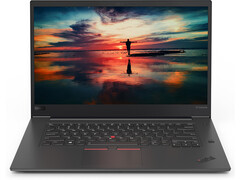 The second generation of the X1 Extreme introduces new CPUs, a new GPU and a wider choice of displays. However, the X1 Extreme Gen 2 performs worse than its predecessor in some areas, especially in terms of its processor. We would recommend giving the 4K panel a miss too as it decimates battery life.
The second generation of the ThinkPad X1 Extreme is more of a small update, as it retains the chassis and ports of its predecessor. Most changes that Lenovo has made are internal, with the company offering Coffee Lake-H processors and a newer GPU, along with Wi-Fi 6 connectivity and more displays from which to choose. Additionally, the X1 Extreme Gen 2 has quieter fans than its predecessor, especially under load. However, Lenovo has stuck with the same cooling system, so performance suffers as a result.
We also encountered calibration issues with our IPS 4K panel. While it has the potential to deliver excellent image quality, it performed surprisingly poorly out of the box. Poor factory calibration seemed to be the issue here, as additional calibration resolved the issues we initially had. A bigger problem with the optional 4K IPS panel, and with the 4K OLED one for that matter, is power consumption. Our review unit managed a paltry 4:45 hours in our practical Wi-Fi test on an 80 Wh battery, for example, a runtime that is about half what the practically identical but 1080p-equipped ThinkPad P1 2019 achieved.
This does not make the X1 Extreme Gen 2 a bad multimedia laptop. On the contrary, it has more than enough performance to see you through all tasks, including modern triple-A gaming. However, it simply does not meet our expectations. If you can cope with the smaller sRGB colour space, then we would recommend configuring the X1 Extreme Gen 2 with the optional 1080p 500-nit panel, instead. This will offer comparable image quality and considerably better battery life.