Smach Z prototype gets tested: Challenges GPD Win 2 3DMark scores and may offer 32 GB RAM and Ryzen Embedded V1807B SoC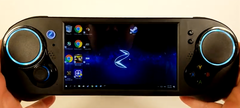 A prototype of a Smach Z handheld game console has been unboxed and tested in a YouTube video posted by The Phawx. The device was put through its paces in three 3DMark benchmarks and managed to outscore the GPD Win 2 in all three tests. It's now possible to reserve one of the handhelds for as little as US$10.
Working For Notebookcheck
Are you a techie who knows how to write? Then join our Team! Especially English native speakers welcome!
Currently wanted:
News and Editorial Editor - Details here

There seemed to be a point not long ago where many believed the Smach Z console would never see the light of day. We reported on videos of an Alpha prototype of the gaming device in February, but it appears the already controversial console suffered from even more delays. However, a working prototype has been thoroughly reviewed and tested by The Phawx, and it has put up a reasonable enough performance overall.
The Smach Z console in the video doesn't seem to be one of the SKUs currently advertised on Smach's website, though. It's mentioned that the prototype in the clip comes with a hefty 32 GB of memory, whereas the current high-end model listed by the company, the Smach Z Ultra, sports 16 GB RAM. The unit on display is powered by AMD's Ryzen Embedded V1605B processor, but interestingly the options printed on the box show that a V1807B-powered SKU could be in the works.
AMD's Ryzen Embedded V1605B and V1807B SoCs both have four cores and eight threads, but that's all they have in common. The Ryzen V1807B is a significant step up from the Ryzen V1605B: It brings a more powerful iGPU (Radeon Vega 11 vs. Radeon Vega 8), has higher base and boost clocks, and it has a higher TDP.
In the unboxing video, The Phawx tests the Smach Z handheld game console with 3DMark Cloud Gate, 3DMark Sky Diver, and 3DMark Fire Strike. Thanks to some GPD Win 2 scores recorded in the same benchmarks by Liliputing, we can compare the two devices (Smach Z with an AMD Ryzen Embedded V1605B listed first; GPD Win 2 with a Core m3-7Y30):
Sky Diver 5117 vs. 3272
Fire Strike 1539 vs. 825
Cloud Gate 6319 vs. 5279
Of course, the Intel SoC is much weaker than either the Ryzen V1605B or Ryzen V1807B: It has less cores and lower clocks, although it is more energy-efficient (TDP 4.5 W). It is currently possible to reserve one of Smach's handheld gaming consoles for US$10, with the following prices listed for the Smach Z devices:
Smach Z – 4 GB RAM + 64 GB storage without camera: US$699
Smach Z Pro – 8 GB RAM + 128 GB storage with 5 MP camera: US$899
Smach Z Ultra – 16 GB RAM + 256 GB storage with 5 MP camera: US$1,099