Movado Connect 2.0: A smartwatch with Wear OS and 1 GB of RAM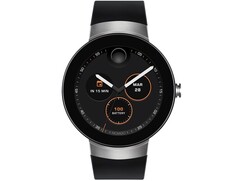 The hitherto unknown Movado Connect 2.0 has been discovered in a recent FCC listing. The Wear OS smartwatch comes with 1 GB of RAM, 8 GB of internal storage and will be powered by either a Snapdragon Wear 2100 or a Wear 3100.
Movado is planning a successor to its Movado Connect, the 46.5 mm Wear OS smartwatch that came out just under two years ago. Aptly named the Connect 2.0 according to a recent FCC filing, the watch will presumably run Wear OS and will be equipped with 1 GB of DDR3 RAM and 8 GB of eMMC flash storage. The Connect 2.0 will also come with a Qualcomm APQ8009W chipset, which could either be the Wear 2100 or Wear 3100.
The FCC filing also points to the Connect 2.0 having a smaller watch face than its predecessor. The model name listed is "MOVADO CONNECT 2.0/40", with the 40 possibly referring to 40 mm. A drawing of the back of the watch face carries the model number "MOVADO CONNECT 2.0/42", perhaps signifying that there will be a second, 42 mm, model too.
Other details confirmed by the listing are a 300 mAh battery, IPX8 water resistance, a black case colour along with metal and leather watch straps. The Connect 2.0 will support Bluetooth 4.0, NFC and up to IEEE 802.11 n Wi-Fi, restricting it just 2.4 GHz Wi-Fi networks. Release date and pricing are still unknown, although expect the Movado Connect 2.0 to be pricey considering that its predecessor cost between US$595 and US$995.