The slimmest new Casio EDIFICE watch is also a Bluetooth device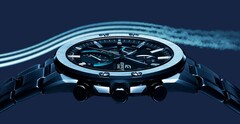 Casio has released the EDIFICE EQB1000D-1A, a new watch with a case only 8.9 milimeters (mm) thick. It is also one of the brand's connected devices, which means it can connect to a smartphone app. This allows it to keep time accurately in over 300 locations.
Casio has released the EQB1000D-1A, the first in a new line of EDIFICE watches. These devices, the EQB-1000s, will have a 8.9mm case. This slim form factor houses a Smartphone Link module, and is up to 30% slimmer than that in the original "connected watch" from this brand.
The EQB1000D-1A can use its iOS/Android app to set itself to the correct time automatically in "over 300 cities". In addition, it can be used to find a user's smartphone with the press of a button on the watch. The Bluetooth module that connects it to a mobile device is charged using Casio's Tough Solar Power technology, as is the watch itself.
This variant of the EQB-1000 series has a silver metallic finish, and retails for a recommended price of US$300. It is available from the Casio website, or from selected retailers, from now.