Realme to soon ditch ColorOS for custom RealmeOS based on Android Q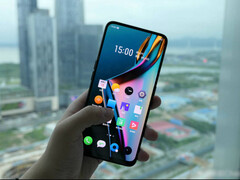 Realme CEO Madhav Sheth confirmed that the company will offer its own RealmeOS in the coming months instead of Oppo's ColorOS. Not much is known about RealmeOS at this time apart from the fact that it will be based on Android Q and will incorporate features based on user feedback.
Realme recently launched the 64 MP quad-camera technology that will likely debut in upcoming Realme phones. On the sidelines of the event, Realme CEO Madhav Sheth spoke with India Today and confirmed that the company is developing an Android variant of its own.
Sheth reportedly did not go into specifics but said that RealmeOS will replace Oppo's ColorOS that is currently used in all Realme phones. RealmeOS will incorporate user feedback and improvements over ColorOS and will be based on Android Q. Recently, Realme announced that it was inviting select users for a beta testing of a 'Mystery Project X'. It is very well possible that Project X was a beta build of RealmeOS. The company had also filed a trademark for RealmeOS in the UK earlier this year.
The launch of RealmeOS is likely to be tied to the public release of Android Q in Q3. Whether Realme will opt for a more stock-like feel on the lines of OxygenOS or ZenUI 6 remains to be seen.
Global shipments of Realme phones saw an 848% increase compared to last year. Realme started off as an Oppo sub-brand but has now moved on to become an independent company. The company is also mulling to open its own R&D facility in India soon.