Realme teases the X2 ahead of its Chinese launch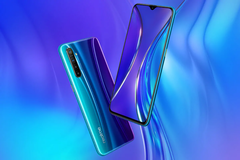 Realme has announced that it will launch a new 64MP camera phone for the Chinese market on September 24, 2019. The brand has also released some details of this device - the X2 - which make it sound suspiciously like the XT that is now official in India. However, it has some crucial differences, such as its 32MP selfie camera.
The Realme XT is a quad-camera phone that is the first from its brand to incorporate the 64MP Samsung ISOCELL GW1 sensor. It has recently been released to the Indian market; now, a phone that bears a strong resemblance to the same is set to be launched in a different country.
This phone is to be called the Realme X2. Its maker has posted an official teaser showing its back panel, which does indeed match that of the XT. However, some text running alongside these images indicate that it has a 32MP front-facing camera. The new phone to be sold in India, however, has a 16MP selfie-shooter.
Therefore, it is possible that the X2 is an alternative variant of this device, rumored to be powered by the Snapdragon 730G rather than the Snapdragon 712. As Realme has conceded that its next launch is indeed for an XT rebrand for the Chinese market, this may well be the case. It is scheduled for less than 1 week from now (on September 24, 2019).