The Realme X2 Pro comes with Dolby-powered dual speakers and is headed for Europe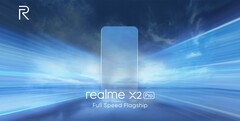 Realme has announced that its upcoming flagship, the X2 Pro, will have dual stereo speakers. Furthermore, they will be equipped with Dolby Atmos and "hi-res" audio. The brand has not given a launch date for this phone, but is now clearly aiming it at the European market.
Realme has confirmed the existence of its particularly premium upcoming smartphone, the X2 Pro. The brand has teased this new device extensively on its EU website, a definite indication that it will be launched in this region. This site asserts that the X2 Pro will be the first Snapdragon 855 Plus device in a certain price segment. It also confirms beyond a doubt that it will be a quad-camera phone with a 64MP sensor.
This module will be joined by telephoto, 115-degree wide-angle and "portrait" lenses on the X2 Pro's rear panel. Realme also now asserts that its upcoming flagship will be capable of macro photography and 20X zoom. The images captured by this arrangement will show up on a 90-hertz refresh rate display, in accordance with a prior leak that also raises optimism for a cheaper price compared to the OnePlus 7T. However, the brand also has some genuinely new information with which to tease this proposition further: dual stereo speakers with Dolby Atmos.
This feature will also be associated with "Certified Hi-Res Sound Quality" in this device. Realme also now claims that it will have the "fastest charging speed in Europe", which most likely translates into 50-watt VOOC charging. Therefore, it seems all that remains to be found out about the Realme X2 Pro is its launch date and how much it will cost thereon. Given its apparent specs, this will be worth following up on in the future. (buy Realme X 8G+128G now at Amazon)