The Realme X2 Pro will come with a 135Hz touch-response rate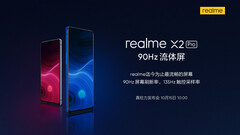 Realme has revealed that the X2 Pro's display will come with a touch-sampling rate of 135 hertz (Hz). This means that the upcoming Snapdragon 855 Plus flagship may have enhanced user-input responses to go with its 90-hertz display refresh rate. Its camera prowess has also been teased on Weibo.
Realme has reportedly posted some new official leaks concerning the X2 Pro to its official Weibo channel. Accordingly, we now know the brand's latest planned release is to come with a touch-sampling rate of 135 hertz. This property, along with a high display refresh rate, is another 2019 mobile-device attribute being enhanced in order to inform the user experience, most often when gaming.
The OPPO sub-brand has also allegedly released an image confirming that it has also secured an exhaustive TÜV Rheinland eye-health certification for this apparently beefed-up display. Therefore, the X2 Pro may also offer features such as reduced blue-light emissions, advanced dimming and flicker-resistance. However, there are as yet no concrete indications as to how big this screen may be.
Realme has also shared some camera samples apparently associated with the X2 Pro and its 64MP camera today (October 9, 2019). Therefore, we may also glean an idea of how photography may be expected to work on this quad-lens new flagship. This phone's next release event will take place on October 15, 2019 and will result in its availability on the European market. (buy Realme X 4G+64G now at Amazon)