HP EliteBook x360 830 G6: HP laptop does not deliver its promised LCD brightness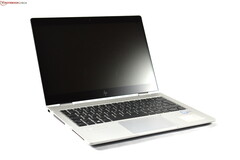 HP promises a brightness value of 1000 cd/m² for its EliteBooks with SureView screens. The recently reviewed HP EliteBook x260 830 G6 has an extremely bright screen – but it does not manage to hit the brightness value that the manufacturer promises.
Laptop screens were pretty dark in the past. Screens with 200 cd/m² were the norm. That is slowly changing, 300 to 500 cd/m² are more and more often the new standard. Much brighter screens are still rare.
For its recent EliteBooks with SureView screens, HP promises much higher brightness values. The recently tested HP EliteBook x260 830 G6 for example is supposed to reach 1000 cd/m² when configured with a SureView screen. In our review, we measured the screen and it really is extremely bright – but its average brightness value reaches "only" 700 cd/m², not 1000 cd/m². In this case, HP fails to deliver on its marketing promise.
Apart from this, the HP EliteBook x360 really is an extremely solid HP laptop, which combines high quality components with the feature-richness of a business laptop – one of the biggest caveats is that the CPU performance is slightly underwhelming. For detailed information, we redirect you to your detailed review of the HP EliteBook x360 830 G6. (on sale now at Amazon)
Working For Notebookcheck
Are you a techie who knows how to write? Then join our Team! Especially English native speakers welcome!
Currently wanted:
News and Editorial Editor - Details here