Smach Z handheld gaming PC to integrate AMD's Ryzen V1000 embedded CPU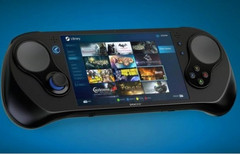 After 4 years of development, the Smach Z handheld PC could finally see the light of day in H2 2018. Smach partnered with AMD to include a custom embedded RX-421B CPU that integrates an 8CU R7 GPU, and the device will also include at least 4 GB of DDR4-2400 RAM and 64 GB of storage.
2018 is shaping up to be quite a good year for handheld gaming systems. Smartphone makers like Razer, Asus and Xiaomi are hard at work on dedicated gaming devices, and, while these are running Android on powerful mobile SoCs, there are other companies like GPD or Smach that power their handheld devices with embedded PC processors. The Smach Z is formerly known as Project Steamboy and has been in development for almost 4 years now. Silence has fallen over this project in the past few years, but just recently there were some rumors that Smach could actually ship the device this year. Confirming the rumors, Smach has just announced its collaboration with AMD, which will provide custom made Ryzen V1000 embedded processors for the Smach Z.

With a 12-25W TDP, the processor powering the Smach Z is the Ryzen V1605B, which includes four cores and 8 threads clocked at 2 GHz (3.6 GHz boost). The actively-cooled CPU also integrates an 8 CU Vega 8 GPU clocked at 1.1 GHz similar to the one found in the Ryzen 5 2500U laptop CPU. According to Liliputing, Smach CEO Daniel Fernandez claims that this processor can handle any current AAA game, however, some graphics option tweaking might be necessary. The latest specs for the Smach Z handheld PC include a 6-inch FHD display, 4 / 8 GB (Pro version) of DDR4-2400 RAM and 64 / 128 GB (Pro version) storage. Users will further be able to customize the device with 16 GB of RAM and 256 GB storage. The case will feature gaming buttons and pads on each side of the screen, plus a 5 MP camera for the Pro version. Networking features include WiFi + Bluetooth 4.0, while connectivity is ensured through ports like USB-C, USB-A, Micro USB, Display Port, SD card reader and Audio minijack.

Smach also intends to showcase the Z handheld at the Embedded World expo next week, and there is a good chance the device could ship in H2 2018.