Cryptic "Cato" chips from AMD likely to be upcoming generation of embedded SoCs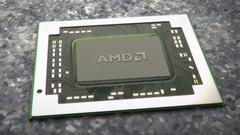 A screenshot of information concerning three processors has surfaced that seems to reveal that AMD is preparing to release some new embedded SoCs. The screenshot was taken from a Futuremark database, with the information being spotted and shared by Tum Apisak. The three mysterious chips have the driver names Cato SoC and Radeon RX 350 Series.
It appears AMD is planning on adding some new embedded chips to its lineup in the not too distant future. The benchmark database screenshot reveals the processor names as AMD RX-8125, AMD RX-8120, and AMD A9-9820. The first two R-Series products are listed as Cato SoCs while the latter processor is labeled under the driver name Radeon RX 350 Series.
The three processors appear to have eight cores each and eight "logical processors" – so simultaneous multithreading (SMT) seems to be absent for these chips. Clock rates are also mentioned in the screenshot: The AMD RX-8120 is the low-end offering here with a base of 1,700 MHz and a boost of 1,796 MHz. Both the RX-8125 and A9-9820 have identical rates: 2,300 MHz to 2,395 MHz.
What sets the AMD RX-8125 Cato SoC apart from the A9-9820 is that the latter is an APU – it features an integrated graphics solution, which in this case is obviously a Radeon RX 350 GPU considering the driver name the APU is listed under. Not much is known about the AMD Cato SoCs at the moment, and it is possible the chips that appeared on the benchmark database are engineering samples, so specifications could change for the final products.