AMD stock sees significant jump, Intel put on the spot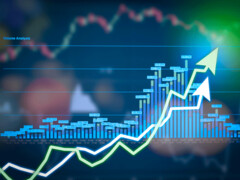 2019 is already shaping up to be a good year for AMD. The 7 nm chips are currently manufactured by TSMC on the new EUV lithography, and the red team has considerably increased its chip orders, as the launch dates are looming. Intel, on the other hand, is faced with weakened investor confidence and could lose important market share in the mainstream CPU and server sectors.
The plans are finally starting to come together for AMD, as the company is expected to cause serious troubles for Intel in the coming quarters. Intel's ongoing CPU shortages and the slow roll of its 10 nm node have weakened the investor confidence to AMD's benefit. The red team is expected to get a significant edge on the mainstream and server-oriented markets thanks to the release of the 7 nm chips, and this is already reflected in the appreciating stock prices.

Last week, AMD's stock price saw a sudden 8% increase up to US$29 (now down to around US$28) due to TSMC announcing high volume orders for the upcoming 7 nm Zen 2 processors. The Taiwanese foundries have recently introduced the improved EUV lithography for its 7 nm nodes and it looks like AMD's Ryzen 3000 and EPYC Rome CPUs are going to benefit from it. The 7nm technology will deliver 25% higher clock speeds for AMD's CPUs, which means that the Ryzen 3000 CPUs could finally beat Intel's mainstream lineup. As far as server-oriented CPUs are concerned, the EPYC Rome chips integrating up to 64 cores and 128 threads should allow AMD do further erode Intel's position and jump from 3.2% to more than 10% server market share.

Intel presented quite an impressive lineup of chips and technologies at its Data-Centric Innovation Day last week, which lead to a stock price increase of around 3%. However, Wells Fargo cited serious concerns regarding Intel's decreased chip demand, prolonged shortages and overall slow advancements, leading to an immediate neutralization of the stock price increase. On the other side, AMD's stock prices are almost back to where they were before the crypto-currency market decline, and the launch of the 7 nm chips could even bring back the stock prices AMD was seeing in the mid-2000s.