AMD manages to take a nibble out of Intel's share in Steam processor survey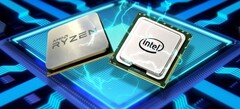 AMD has taken a bite out of Intel's overall share in Steam's monthly survey in the PC processor usage category. The red team was up to 18.1% for March, rising 0.5% from 17.6% for February. AMD took share away from Intel for systems running Windows, but the latter chipmaker gained a little for computers operating on Linux.
There's no big surprise with the statement that Intel is still completely dominating AMD when it comes to the figures presented by Steam's monthly Hardware & Software Survey. The numbers for March are more positive for the Ryzen manufacturer though, as Intel's overall share fell from 82.4% to 81.9% for the month.
Things also look better for AMD with its processors running on Windows platforms. The monthly share was 18.02%, which was a gain of 0.68% over February. However, it seems gamers using a Linux-based system turned more to Intel chips, as the Core i chipmaker made a small 0.16% growth over the previous month in this category.
It will be interesting to see how the survey unfolds over the next few months as both AMD and Intel have new processors coming to the market. Intel has its 9th Gen Coffee Lake H Refresh mobile chips that are aimed for use in high-performing laptops that gamers prefer, while AMD will soon be revealing its second-generation Ryzen Pro and Athlon Pro lineups, then the third-generation Ryzen desktop processors, and eventually it will unveil the third-generation Ryzen Threadrippers.