LG may have a whole new smartphone series in the works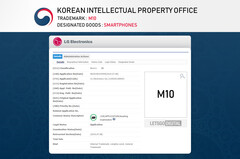 LG may be about to release a new line of smartphones with the prefix M. According to a new report posted to a tech blog, the OEM has applied for a Korean trademark that would make the name "LG M10" official. In other related news, this company also allegedly plans to make the V series of phablets last at least 2 more generations.
LG has already demonstrated an increased commitment to covering more sectors of the smartphone market this year with the new W line of phones. Now, it appears the OEM has even more of the same in mind for the future. LetsGoDigital claims to have found new trademarks filed by this company in its native South Korea.
These new purported applications are all in the 'smartphone' category, and have been lodged with the Korean Intellectual Property Office. The most novel of these are for an M10, a name previously unheard of at LG. It is possible that this new phones, as well as others that come after it, may one day fill the product gap left by the P series of mobile devices once sold by the company.
It must be said that the putative new phone's name is far from original: Samsung has also established its own Galaxy M range of sub-premium smartphones. LG may not have stopped its trademarking kick there, though: the same blog also claims to have found additional applications that may bring 2 subsequent successors for the LG V50 ThinQ to life in the near future.