Subverting expectations: Sprint LG V40 users wake up to find a surprising OTA update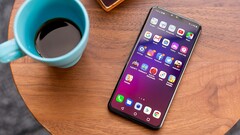 The LG V40 started receiving the Android Pie update last month. Since then, AT&T, T-Mobile, Verizon, and even unlocked models of the device have all received their taste of Pie. Not Sprint, though, and users of the Sprint model will likely have been annoyed when they received a new OTA that still didn't bring Pie.
The LG V40 was released back in October last year. As has become customary with LG devices, it launched with Android Oreo, an outdated version of the OS at the time. Over the past few months, the device has received the update to Android Pie...with one exception: Users of the Sprint model of the phone are yet to receive the Pie update.
Sprint users of the V40, a few hours ago, received a brand new OTA and may have clicked on the update in anticipation of finally getting the Pie update. They are sure to have been disappointed, as the update turned out to just be the June security patch.
Other models of the device received the June security patch as part of the Pie update, so this is something of a surprise from Sprint. It's unknown when the carrier will finally send out the update to Pie but we expect it within the coming weeks.