Almost four years after launch, LG reaffirms its commitment to providing updates for the LG V10 and G5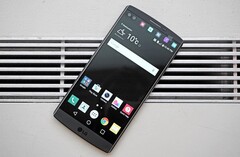 The LG V10 and G5 were released well over three years ago, so it's something of a surprise to see them listed on LG's service bulletin as being eligible for updates. It's even more surprising when one remembers that this is LG, a company notorious for awful software support.
Working For Notebookcheck
Are you a techie who knows how to write? Then join our Team! Especially English native speakers welcome!
Currently wanted:
News and Editorial Editor - Details here

LG's software update record is, well...atrocious. The South Korean OEM is widely regarded as having one of the worst update policies of any big brand, and its performance with the Pie update to recent flagships hasn't done much to change public perception. As a result, it came as a surprise when the company reaffirmed its commitment to providing updates for the V10.
The LG V10 was launched back in 2015. That means it's effectively four years old at this point. Pretty much no Android device receives updates at this point in its life cycle, except Samsung's Exynos flagships, perhaps. LG appears to be breaking the wheel, though.
In the company's recent service bulletin, it listed the V10 as one of the devices still supported with security updates. For what it's worth, the LG G5 is also listed.
As with all things LG, there are likely to be caveats to this. It's possible only the South Korean models get the promised updates. Indeed, the South Korean G5 received the June patch. If European and North American models of the V10 and G5 do manage to get the patches, it would be, well, a pleasant surprise.