The Huawei Mate 30 Pro promises to push the envelope of smartphone photography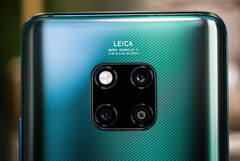 Huawei will launch the Mate 30 phones in the coming months and a new leak touts the Mate 30 Pro to continue the trend of pushing the envelope with progressively impressive camera hardware. Apparently, the Mate 30 Pro will feature two massive 40 MP sensors alongside a 5X optical zoom telephoto lens.
Huawei appears to be the company single-handedly pushing the development of smartphone camera performance, at least in the hardware segment. Starting with last year's P20 Pro, Huawei's flagships have progressively featured class-leading camera hardware and that trend looks set to continue with the Mate 30 Pro.
According to a new report, the Mate 30 will feature two 40 MP sensors. The main shooter will be the same game-changing 40 MP RYYB sensor that debuted on the P30 Pro. The ultra-wide-angle camera is the more interesting one, as it's said to also be a 40 MP 1/1.7" sensor.
Ultra-wide-angle shooters are generally much worse than the main cameras but, if this rumor turns out to be accurate, the Mate 30 Pro could have an ultra-wide-angle shooter that outperforms the main sensor on most other flagships.
Both shooters are expected to have a new Cine Lens feature for video recording. Huawei phones have received flak for sub-par video recording and we could finally see improvement in that department.
The telephoto lens is expected to be an 8 MP sensor capable of taking 5X optical zoom shoots, just like the P30 Pro.