New Huawei Mate 30 Pro leak suggests it will retain square camera, get bigger screen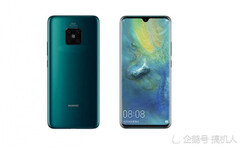 Up-to-date rumors point to successors for the Huawei Mate 20 line this year. The latest leak on one variant of this series states that it will have the perfectly square rear camera pioneered last year in this series. It will also have a bigger screen, as well as a time-of-flight (TOF) module.
There are some solid indications that, even though Huawei has a brand-new foldable flagship to launch this year, it will also refresh the Mate line of smartphones. They are premium devices most likely to get the latest and greatest in Kirin processors available from year to year (the 985, in this case), as well as higher-resolution displays compared to their camera-centric P-line siblings.
The latest rumor on this topic indicates that the Mate 20 Pro's successor will reprise the square arrangement Huawei premiered in this device last year. It has gone over fairly well, mainly as the relatively large surface area of the entire module is flush with the body. (This cannot be said of the putative iPhone XI and XI Max, whose latest 3D representations suggest that they could copy the design choice).
Therefore, the Mate 30 Pro's rear panel may have a centrally-mounted black component that houses at least 4 cameras. The translated text of the latest Chinese leak on the subject also strongly supports the notion of a 6.71-inch curved screen for the device, as well as a state-of-the-art TOF sensor. However, it is less positive on the prospect of a telephoto lens in this upcoming flagship.