5G phone sales are on the rise in numerous US cities, even those without coverage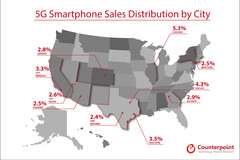 Counterpoint Research's latest study of the 5G market in the US has found that sales of mobile devices that can use these new bands have been detected in more than 10 cities. However, some of the areas in question still do not have an actual next-gen service. This phenomenon has been attributed to consumer interest in future-proofing.
Counterpoint Research has published the results of its latest analysis of 5G adoption and sales in the United States. It has concluded that they are not going completely according to the distribution pattern these new cellular services have exhibited so far. For example, one of the first cities to acquire operational 5G towers in this country, Minneapolis, does not appear on the list of the top 10 cities for 5G phone sales.
Furthermore, other cities yet to be reached by the coverage in question do in fact appear on this list. For example, Phoenix in Arizona is now linked to 2.5% of all 5G-enabled phone sales in the US, despite the fact that it may not see the new bands until the end of 2019. Conversely, Chicago - the joint-first city in which 5G was activated by Verizon earlier in the year - accounts for only 5.3% of compatible phone sales in the US.
Therefore, it appears that some consumers in the US are buying devices such as the Samsung Galaxy S10 5G and the LG V50 regardless of whether they can use the new radio bands or not. Counterpoint explained this behavior as either a general drive toward future-proofing while buying new phones, or the anticipation that 5G will become available in a given area soon.