5G technology is now projected to build a market worth over US$600 billion by 2026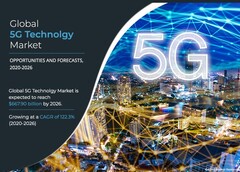 The 5G tech market is now thought to be capable of hitting US$667.9 billion by the middle of the next decade. This is particularly impressive as it is also projected to accrue only $5.54 billion by 2020. This growth may be driven by a demand for streaming and for improved connectivity among industrial buyers.
The latest report by Allied Market Research (AMR) indicates that the 5G technology market could grow over the next 7 years to the extent that it will end up with a valuation of up to US$667.9 billion. Accordingly, based on its projections for next year, it could exhibit a compound growth rate of 122.3% for every year from 2020 until 2026.
This rapid and profound growth is thought to be mainly driven by 2 prominent factors: a demand for streaming among consumers, as well as that for improved industrial-grade connectivity. AMR divides the 5G tech market into 3 main sectors for the purposes of its report: hardware, software and services. Of these, the first is thought to dominate the market over the next 7 years. As 5G infrastructure remains largely at the implementation stage these days, this makes sense.
Streaming over 5G is likely to be applied to either content-consumption or gaming. On that note, Tencent has unleashed its next-gen Cloud Gaming Solution at the China Digital Entertainment Expo and Conference this year. This new service is based on the company's RTC video-transmission technology.
Tencent asserts that it will negate the need to download game files (some of which can be in the tens of gigabytes at this juncture) or save their data (which can take up similar amounts of storage), and will facilitate their streaming over 5G instead. This sounds like good news for a phone's memory, if not for the concept of fair use in even the most generous of data plans.