OnePlus executive confirms plans for 2nd 5G phone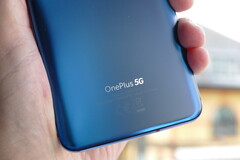 OnePlus released its first 5G phone, a variant of the 7 Pro flagship, earlier this year. Now, the company's CEO, Pete Lau, has told the Financial Times that it intends to put a 2nd one into production. This may be connected to speculation that next-gen connectivity will be more common by 2020.
OnePlus' CEO, Pete Lau, has given an interview to the Financial Times. In it, the executive mentioned that his company intends to continue its emerging trend of producing 5G phones. Its 2nd phone with this connectivity will now enter production by the end of 2019.
It is not clear if this phone will also be released this year. Then again, it is usual practice for OnePlus to release a late-year flagship, which is usually the mid-year launch with specific modifications - for example, the 6T is the 6 with a more modern, water-drop-notched screen.
Lau may reason that the world is ready for another 5G phone now as they is likely to become more ubiquitous by 2020. In addition, it is possible that this new phone is the one to which the carrier Sprint was referring when it announced that it would start stocking a new device capable of using its new bands from the OEM OnePlus.