ZTE Axon 10 Pro 5G now available in Finland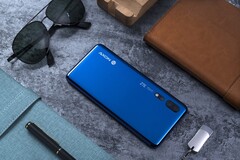 The Finnish carrier Elisa now offers the 5G version of ZTE's 2019 flagship smartphone. It joins the OnePlus 7 Pro 5G as options that can use the new bands on this network. The Axon 10 Pro 5G costs €899 (US$1009) outright through this medium.
Elisa has released the Axon 10 Pro's 5G variant for use on its service. The Finnish telecoms network now stocks 3 phones that work on the new radio standard; the others are the 5G versions of the OnePlus 7 Pro and the Huawei Mate 20 X. The new ZTE flagship is available as an 8GB RAM device on this carrier, although there is also a 12GB variant of this device out there.
The Nordic company currently stocks this phone at a price of €899 (or about US$1009) outright. However, it is also available on contract, starting at €24.96 (about US$28) per month. The OnePlus alternative has the same pricing structure. By contrast, the 4G Axon 10 Pro is only €599 ($672) or €23.02 ($25.82) through the Elisa network.
Elisa also offers the Mate 20 X 5G at €999 ($1121) or a minimum of €27.74 ($31.12). Interestingly, this carrier also stocks the new, Cardinal Red SKUs of the Samsung Galaxy S10e, S10 and S10+. All in all, it seems to be a first good year on 5G for consumers in the Scandinavian country.