ZTE announces July release for the Axon 10 Pro 5G edition in China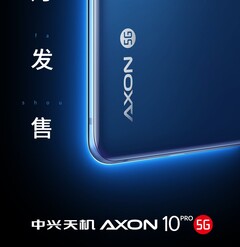 ZTE has already launched its flagship smartphone for this year, the Axon 10 Pro. However, it also had a 5G-enabled variant, which had not been available in its domestic market despite having been released into others. Now, the OEM has announced that this will be rectified in July 2019.
ZTE relleased its Axon 10 Pro flagship earlier in 2019. It was one of the first Snapdragon 855-powered devices to also have 5G compatibility due to an optional X50 modem. This verison of the phone has been sold in some North and West European markets, as well in as the United Arab Emirates. However, it has not yet been available in China.
The 5G edition of the Axon 10 Pro is advantageous for reasons besides its expanded connectivity. They are the only SKUs with 8 or 12 GB of RAM and up to 256 GB storage. Therefore, ZTE at least gives the impression of fielding a high volume of requests for this phone from its fans in China on Weibo. Earlier today, (June 13, 2019) the OEM acquiesed to them.
It announced that the ZTE Axon 10 Pro 5G Edition would be officially released "next month". There are already rumors that its base model will cost 3199 yuan (or about US$420) at this point. Until then, the OEM is said to be working with 3 telecommunications operators in the country so that the phone will be fully functional when it is finally available.