Huntkey breaks into the gaming market with its X-series curved monitors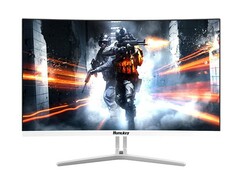 Huntkey is known as a maker of power bricks and other similar accessories. However, it also makes other devices, monitors included. Its latest model is the X2471C, which is a 1080p, 144-hertz (Hz) 23.6-inch 1800R-curved panel. This model has a white housing, 2 HDMI ports and 1 Display Port.
The latest monitor by Huntkey is the X2471C. It is one of a series that targets the gaming-peripherals market. It is 23.6 inches in diagonal length and has a resolution of 1920 by 1080. It is also a 1800R-curved panel with 178-degree viewing angles, which might bring greater immersion compared to an equally-spec'd flat monitor.
The Huntkey X2471C has a refesh rate of 144 hertz (Hz), which is appreciably fast, but is obviously not comparable to the 240Hz options to be released by other OEMs in the near future. It is a VA panel with a contrast ratio of 3000:1 and is 200cd/m2 in terms of brightness. Its response latency is 5 milliseconds.
This monitor has only 1 color option, which is white. It mainy applies to the rear panel, stand and chin of the device. Huntkey asserts that this choice enhances the product's perceived thinness; however, a prominent company logo located immediately under the display's panel may be more distracting due to this shade.
This Huntkey X2471C monitor, along with others of its line and category, can be evaluated on Huntkey's website, but are not available for sale on its US Amazon store at the time of writing.