ZTE jumps on the square-camera bandwagon with the low-end Blade 20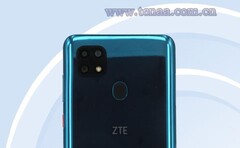 The Chinese regulator TENAA has approved a new phone from the OEM ZTE. It is listed as a 4GB RAM device with a 6.1-inch HD screen and triple cameras in a Pixel-esque square housing. It is set into a rear panel that may be plastic or glass and also includes a fingerprint sensor.
ZTE has registered a new phone with the Chinese certifiers TENAA. It has a triple rear camera; however, rather than arranging these lenses in a typical lozenge-like module, they have been arranged in a square. This design choice has been popularized in the Huawei Mate 20 series, and is also believed to feature on the upcoming Pixel 4 series.
This latest square-cam phone is termed the ZTE V1050 on TENAA. However, it has also been said to have shown up on the Federal Communications Commission (FCC) website, which has let its product name slip. Therefore, this phone may be called the Blade 20 on launch. Apart from its 16+8+2MP cameras, it is described as a 4/64GB device with an unidentified quad-core processor clocked at 2.0GHz.
TENAA's obligatory mugshots show that the putative ZTE Blade 20 has a rear-facing fingerprint sensor set into a glossy blue rear-panel background. This image also shows an unusual strip along the bottom in a contrasting color and texture, which is slightly reminiscent of the battery doors in HTC phones of old. As this feature does not carry around the sides of the device, however, it is unlikely to have this function and is most likely a distinguishing flourish of some kind.
The ZTE Blade 20 does not have a concrete launch date. However, it is hypothesized that it is the additional device that, as the OEM has announced, will be released alongside the low-end Blade A7s. This event will take place on October 18, 2019 in China.