Vivo may launch a "Standard" version of the Y3 soon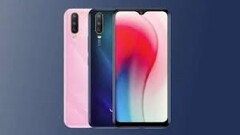 The Vivo Y3 is a sub-US$250 phone sold in China. A new leak suggests that the OEM is going to release a second version of this device. It may be called the 'Y3 Standard' and have 2 rear cameras where the original has 3.
Vivo released the Y3 in May 2019. It combined triple cameras and a 5000mAh battery with low- to mid-range specs. Now, a new set of allegedly leaked specs hints at a Y3 "Standard" edition, which will come with further reduced specs for a presumably proportionally reduced price.
The Vivo Y3 Standard is rumored to have 13MP+2MP rear cameras, whereas the Y3 has a triple camera set-up. It has a Snapdragon 439 SoC rather than the MediaTek processor of the Y3, as well as 3GB RAM and 64GB in fixed storage. The 'new' Y3 has a 6.3-inch screen with waterdrop notch that houses an 8MP selfie camera.
However, the Y3 Standard will apparently retain its large battery capacity, which will charge at a rate of 10 watts. At present, it lacks an official release date, not to mention an acknowledgement of its existence from its OEM. Nevertheless, it is hypothesized to cost about US$141 or less on its release.