A Vivo "iQOO Lite" variant pops up on Geekbench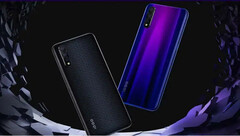 A phone calling itself the Vivo V1936A has appeared on Geekbench, rocking what appears to be the Snapdragon 855 processor and 8GB of RAM. This has led to speculation that this device is linked to iQOO, an emerging high-end sub-brand of this OEM. To date, it has produced a more powerful 5G flagship as well as other phones of varying premium status.
Vivo's new iQOO brand has already attracted attention for its cost-effective 5G flagship and novel approach to gaming-phone specs. Now, there are signs that it may have another new phone in the works. Geekbench has tested a new device called the Vivo V1936A, a model number that fits in well with the rest of this OEM's nomenclature.
This V1936A runs Android 9.0 (Pie), for which it uses 8GB RAM and an SoC referred to as "msmnile" - in other words, the Snapdragon (SD) 855. As Vivo has already released a phone with its refreshed variant the 855 Plus, this is a slightly confusing leak. A theory stating that this new device is destined for the iQOO brand does little to clear this up, frankly.
This brand started its life on an SD 855 device known as the Monster. This was followed by the Neo, an innovative gaming phone that integrated this CPUs' predecessor for a mid-range price, and by the SD 855 Plus iQOO Pro series thereafter.
Therefore, it is proposed that the V1936A is an "iQOO Lite". As this phone is also reportedly linked to a slight downgrade in charging specs (33-watt (W) charging , compared to 44W power in the Pro variants - as well as a clear absence of Android 10 - that may make some sense.
On the other hand, it is possible that this new phone is planned as a successor to the iQOO Neo. In this case, it may not be released until next year. There are also other explanations for the V1936A's specs, such as that it is a cut-price version of the NEX 3, so as to offer its groundbreaking waterfall display to more customers. However, this speculation is all subject to the OEM's next moves on this subject.