LG launches the V50S ThinQ dual-screen 5G smartphone in South Korea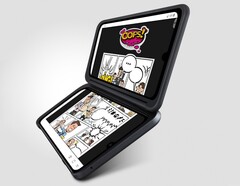 LG is not ready to experiment with folding displays and decided to stick with a more conventional approach that is not as seamless, yet yields similar results. The 6.4-inch dual-screen setup on the new V50S ThinQ handheld can work as one display or as independent sections and is powered by the Snapdragon 855 SoC coupled with 6 GB of RAM and 128 GB storage.
While Samsung and Huawei are experimenting with flexible displays to be the first to deliver a truly foldable handheld, other smartphone makers are sticking with more conventional approaches. Take the latest V50S ThinQ design from LG, for instance. Instead of a flexible foldable display, the South Korean device comes with two separate displays in a clamshell case and there is even a third smaller monochrome display that activates in folded state. It might not offer that same seamless experience, but it is the next best thing.

The two main OLED screens with FHD+ resolution have a 6.4-inch diagonal and integrate a teardrop notch that houses a 32 MP selfie cam, whereas the smaller monochrome screen on the outer lid has a 2.1-inch diagonal and lets users check the time and important notifications. The internals include a high-end Snapdragon 855 SoC coupled with 6 GB of RAM and 128 GB of storage, plus an integrated 5G modem. The "main" display also gets an in-screen fingerprint sensor, whilst the back side features a dual-cam setup with 12 MP and 13 MP sensors plus a 4,000 mAh battery. Since this is a dual-screen setup, LG also offers a stereo speaker setup tuned by Meridian Audio.

LG is planning to launch the new V50S in South Korea on October 12 for ~US$1,199, but it will later be launched in Europe and North America, as well.