A dark theme for Google Maps is finally on the way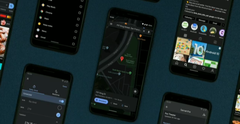 The Android Instagram page has recently posted a short video that hints at a dark theme for Google Maps in the near future. It appears to cause every aspect of the app, including the map-markings themselves, to conform to a color palette that is much less bright.
Google's engineers have been working on alternatives for the traditional blazing-bright display conventions of many aspects of Android for some time now. However, if it is one app that still happily blasts its users in the face with this theme, it is Maps. The official Android page on Instagram has produced a short animation that suggests a potential reprieve from it in the future.
This ecosystem's apps are assuming a dark theme so as to fall in line with Android 10's matching AMOLED- and battery-saving system-wide options. Therefore, many apps that often appear on new phones by default can now be toggled to exhibit a dark theme. It now appears that Google Maps will join them in the very near future.
The Instagram post showed it working on Pixel-esque screens, although the new option will also hopefully come to devices of other OEMs whenever this change takes effect. In other Maps news, a code analysis of an upcoming update to this app may show that it will add the ability to mark certain public transport links as favorites in the near future. This may benefit users who take trains, subways or buses often.