Incognito Mode is coming to Google Maps on phones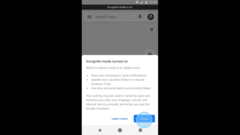 Google's I/O 2019 event saw announcements for plans to bring Chrome's Incognito Mode to mobile services such as Search. This is now reportedly in testing for Maps. It is accessed by tapping the avatar associated with a Google account within this app.
Google unveiled plans to roll Incognito Mode out to apps besides Chrome on smartphones at its I/O 2019 event. This option turns the normal collection of activity-tracking off while using the browser to some degree. The principle appears to be the same when applying it to mobile apps.
The Mountain View's own services Search and Maps are said to be first in the queue for their own versions of Incognito Mode. It is now reportedly being tested in the latter of these 2 apps. The new option appears to mostly consist of the suspension of Location History, a timeline of places visited while using the app with the appropriate permissions and settings on.
Incognito Mode for Google Maps may also cancel the collection of personal information that informs this app's UX. It may be accessed quickly by pressing the profile avatar for a Google account in this app. This will supposedly render this app's use more "private", as it supposedly does when activated in Chrome.