The Google Assistant and App is seeing a roll-out of dark theme again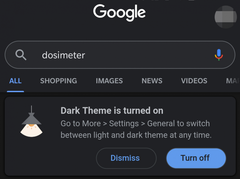 Google Assistant had been reported to gain a dark theme at the start of 2019. However, this update did not get to all users at once. Now, it appears that the Mountain View giant is pushing this change again. This new roll-out, which also affects the Google App, has been observed in a small number of countries thus far.
The Google Assistant had been said to gain a dark theme in January 2019. However, this did not take immediate effect in many markets. Furthermore, the Google app also largely failed to exhibit this update, despite also being in line for it. However, with the release of Android 10, it is appropriate that both are starting to see it again.
This newest version of the OS in question has a system-wide dark theme; many Google apps now have a dark theme to match. The Assistant and search app are also making this change. This has been observed by users who are reportedly in Australia, the UK or US only. Therefore, it seems this is a slow roll-out to begin with.
Quick Wallet Access is a dimension of Google services that is also capable of assuming dark backgrounds and color schemes. It may be a facet of a new Android 10 feature that allows the user to view and organize their payment cards and other assets (e.g. reward scheme points) in Google Pay. However, this iteration allows the user to manage their payment methods from the menu derived from a long-press of the power button.