An Apple Special Event is coming, so time for a coincidental Google Pixel 4 leak: Handsets in black, white, and orange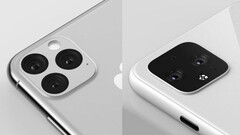 An image showing three Google Pixel 4 smartphones in different colors has seemingly leaked on Weibo. Unsurprisingly, both a black and white SKU are visible, but the choice for the third color has caused some eyebrows to be raised. It had already been leaked that Google was going with orange as one of the Pixel 4's color options.
You would be forgiven for taking a quick glance at the photo at the end of this article and assuming you were looking at some iPhones. With an Apple Special Event looming on the horizon, it would be natural to expect the odd leak or two in regard to the iPhone 11 series. But it's not just that particular smartphone that features the extremely divisive square housing for the rear-facing camera setup.
The image is apparently of the upcoming Google Pixel 4 flagship smartphone, which can be seen in white, orange, and black variants. It's a no-brainer for smartphone OEMs to select black and white as color options for their products, but orange (or coral depending on your definition) is quite the eccentric choice for a third color. It's a bold look that helps that controversial square camera setup stand out even more than it already does.
Some have already opined that this image of real-life Pixel 4 smartphones was not leaked by accident, and Google is renowned for offloading information about its products before their official release. Judging by the early responses on social media, it appears the coral/orange Google Pixel 4 is already being greeted with mixed reviews, with some loathing it and others loving it.