Oh So Expensive: Google Pixel 4 color names leaked and retailer listings reveal premium prices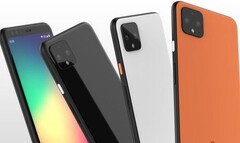 A couple of more Google Pixel 4-related leaks have surfaced, one concerning the apparently official names for the colors the smartphones will come in and another about the not inconsiderable price tags. According to one specific retailer, potential Pixel 4 buyers in Ireland will have to cough up just under €820 (~US$903/£723) for the 64 GB variant of the regular-sized model.
Unsurprisingly, more leaks and information about Google's upcoming Pixel 4 smartphones have sprung up, this time in regard to the official color names and, more importantly, the expected prices. We already reported about images of the Google Pixel 4 showing black, white, and orange colors, and now they have been given the following respective names: Just Black, Clearly White, and Oh So Orange.
Along with the names, an Irish online computer and laptop store called Elara has started listing the Google Pixel 4 and Pixel 4 XL on its site with prices, including VAT. The apparently discounted amounts, which were still advertised on the site at the time of writing, were as follows:
Google Pixel 4 64 GB €819.98 (cut from €922.97)
Google Pixel 4 128 GB €942.18 (cut from €1,059.95)
Google Pixel 4 XL 64 GB €1,009.98 (cut from €1,136.06)
Google Pixel 4 XL 128 GB €1,126.68 (cut from €1,267.52)
The listings show that all three mentioned colors are available for the 64 GB variant of either the Google Pixel 4 or Pixel 4 XL but Oh So Orange appears to be omitted from the choices for the 128 GB models. The table below has these Euro values converted into numerous currencies, which includes the Elara discounted price and the non-discounted amount, just for illustrative purposes only; different regional markets are affected by different pricing structures and taxes. But they still amount to a pricey Pixel 4.
| Country | Model | With discount | Without discount |
| --- | --- | --- | --- |
| USA | Google Pixel 4 64 GB | $903 | $1,016 |
| USA | Google Pixel 4 128 GB | $1,037 | $1,167 |
| USA | Google Pixel 4 XL 64 GB | $1,112 | $1,251 |
| USA | Google Pixel 4 XL 128 GB | $1,241 | $1,396 |
| UK | Google Pixel 4 64 GB | £723 | £814 |
| UK | Google Pixel 4 128 GB | £831 | £935 |
| UK | Google Pixel 4 XL 64 GB | £891 | £1,003 |
| UK | Google Pixel 4 XL 128 GB | £994 | £1,119 |
| Canada | Google Pixel 4 64 GB | $1,197 | $1,347 |
| Canada | Google Pixel 4 128 GB | $1,375 | $1,547 |
| Canada | Google Pixel 4 XL 64 GB | $1,474 | $1,659 |
| Canada | Google Pixel 4 XL 128 GB | $1,645 | $1,851 |
| Australia | Google Pixel 4 64 GB | $1,333 | $1,500 |
| Australia | Google Pixel 4 128 GB | $1,532 | $1,724 |
| Australia | Google Pixel 4 XL 64 GB | $1,642 | $1,847 |
| Australia | Google Pixel 4 XL 128 GB | $1,832 | $2,061 |
| India | Google Pixel 4 64 GB | ₹64,219 | ₹72,287 |
| India | Google Pixel 4 128 GB | ₹73,793 | ₹83,034 |
| India | Google Pixel 4 XL 64 GB | ₹79,132 | ₹89,010 |
| India | Google Pixel 4 XL 128 GB | ₹88,275 | ₹99,310 |
Source(s)
XE (for currency exchange rates)