Black, white, orange, green or blue? Leaked Pixel 4 promotional video points to more than three colours for Google's next flagship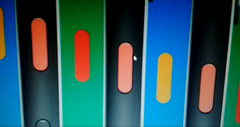 Apple is hosting its "Special Event" tomorrow, but the internet is talking about the Pixel 4. Why? Well, an apparent Pixel 4 promotional video has leaked online, the timing of which is suspect, to say the least. Google may have a trick or two up its sleeve too.
We may not yet know when Google plans to officially unveil the Pixel 4 series, but it may as have already done so with the volume of information that has been appearing online recently. We have already seen scores of leaked specifications, along with hands-on videos of the Pixel 4 and Pixel 4 XL. Now, a promotional video has appeared online, and it looks authentic.
The design of the Pixel 4 in the new video matches those in previous leaks. It confirms that the white model will have a black frame, to which previous leaks have alluded. It also shows off Project Soli integration, a new camera UI and improved night mode, none of which should come as a surprise to people that have been following recent Pixel 4 leaks.
The only new information that we have gleaned from the video relate to colours. Until now, we have seen three colours, with the orange and white versions seemingly having a peach or coral coloured power button. However, the promotional video shows green and blue versions, which have red and yellow power buttons, respectively.
So, is Google planning to launch the Pixel 4 and 4 XL in five colours rather than three? Well, the image to which we are referring remains is only displayed for under a second, so we may be reading slightly too far into things. However, with the new iPhone launch happening tomorrow, it would not be that surprising for this video to be an attempt for Google to steal some of the limelight from Apple.