Chrome may soon be able to alert the user if their passwords have been stolen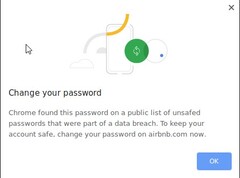 Password Leak Detection is an experimental feature in Chrome 78. It checks a given password against public databases of data breaches, in case of its use in a known security incident. Should this test prove positive, Chrome then offers a pop-up advising the user to change the password for the site or service in question.
Google Chrome 78 is an emerging update for this popular browser with several "experimental" features found on its flags page. The new option to turn Password Leak Detection on may be the most prevalent and important of these. It is a feature that enables Chrome to check the password in immediate use against public data breach databases.
This, then, may alert the user if the same password has been used in the course of any hack or data loss on record. However, it only functions if the user is signed into their Google account. It is enabled by finding it on chrome://flags and enabling it. Thereafter, a toggle for "Password protection" will appear in Chrome 78's settings.
XDA correspondents have also found that this also applies to Chrome 78 for Android. It may be an exceptionally useful tool, especially in an age in which research concludes that many passwords still aren't effective enough. In addition, this new function makes it particularly poetic that this version of the app is also known as "Canary".