New Google Maps feature may help you tell when taxis are taking you the wrong way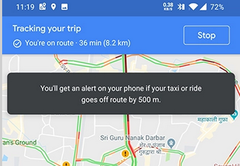 Google Maps is reportedly rolling out a new feature intended to benefit users taking taxis or ride-shares in unfamiliar locations. It starts to send alerts if the vehicle in question starts to deviate from a given route by 500 meters or more. This new setting has only been observed in the Indian market so far, however.
An XDA senior editor has reported on a new Google Maps feature by which an ideal route for taxis or ride-shares can be generated and then monitored. This setting also pushes phone alerts should such a vehicle leave this route to the tune of 500 meters or more. It also includes options to share the progress of such a journey with others in (ideally) real time.
The new Maps facility has depressingly obvious uses from a personal security standpoint. However, it has additional advantages: for example, it may prevent fraud on the part of the odd unscrupulous taxi driver, particularly if the user is not familar with the area around which they are being driven.
To date, this new ability for Google Maps has only been observed on phones active in India. As this is one of the largest markets for mobile devices, it makes sense that the company are developing this feature in the region. Hopefully, it will also make it onto phones in others soon.